The fifth stop of Formula Drift took place this past weekend at the Autodrome in St. Eustace, Canada; and what a hungry racetrack it was. Problem is the outer bank at the initiation point is not a smooth curve. Teams were warned to be careful and they need not wall-ride the 1st half of the wall so as not to be caught out, however for some drivers that caution went out the window as their level of track comfort went up.
Qualifying:

Qualifying was sketchy with a wet but drying track. Drivers were allowed 1 reconnaissance lap and then jumped into their 1st qualifying lap. Ken Gushi threw 1 of the most gangster entries of the entire weekend but with a patchy track slipped off the ideal line, missing the second inside clip. This was repeated by many but the track got better after every pass. Justin Pawlak botched his 1st run but killed it on his 2nd pass. Kristaps Bluss' is oblivious to fear, I'm convinced. Everyone else threw their cars in, he pelted his. But James Deane listened to the judges and measured every clip with a micrometer and taught everyone in the FDCA class qualifying 101.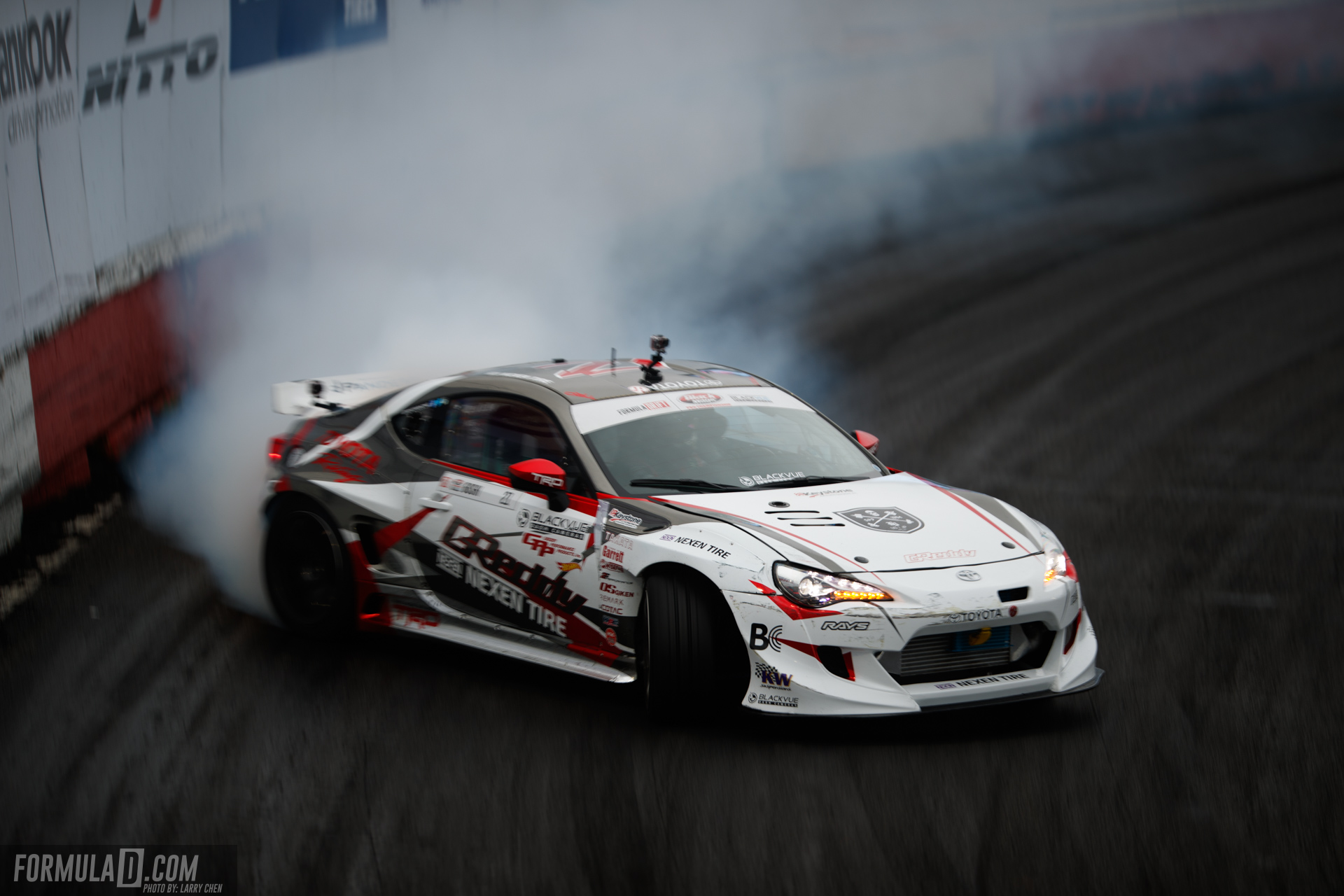 With a few teams unable to make the trek up North, there were some Bye runs in top 32, 8 to be exact (that guy 'Bye-run' is everywhere lol). In the driver's meeting, they elected to run those single runs so to advance, every car had to make a pass. Piotr, while practicing with Dai just before top 32 action, threw his car in and it seemed the tie rod broke, turning him into the wall and damaging the car beyond repair in the afforded timeline. Piotr Wiechek was Victim #1.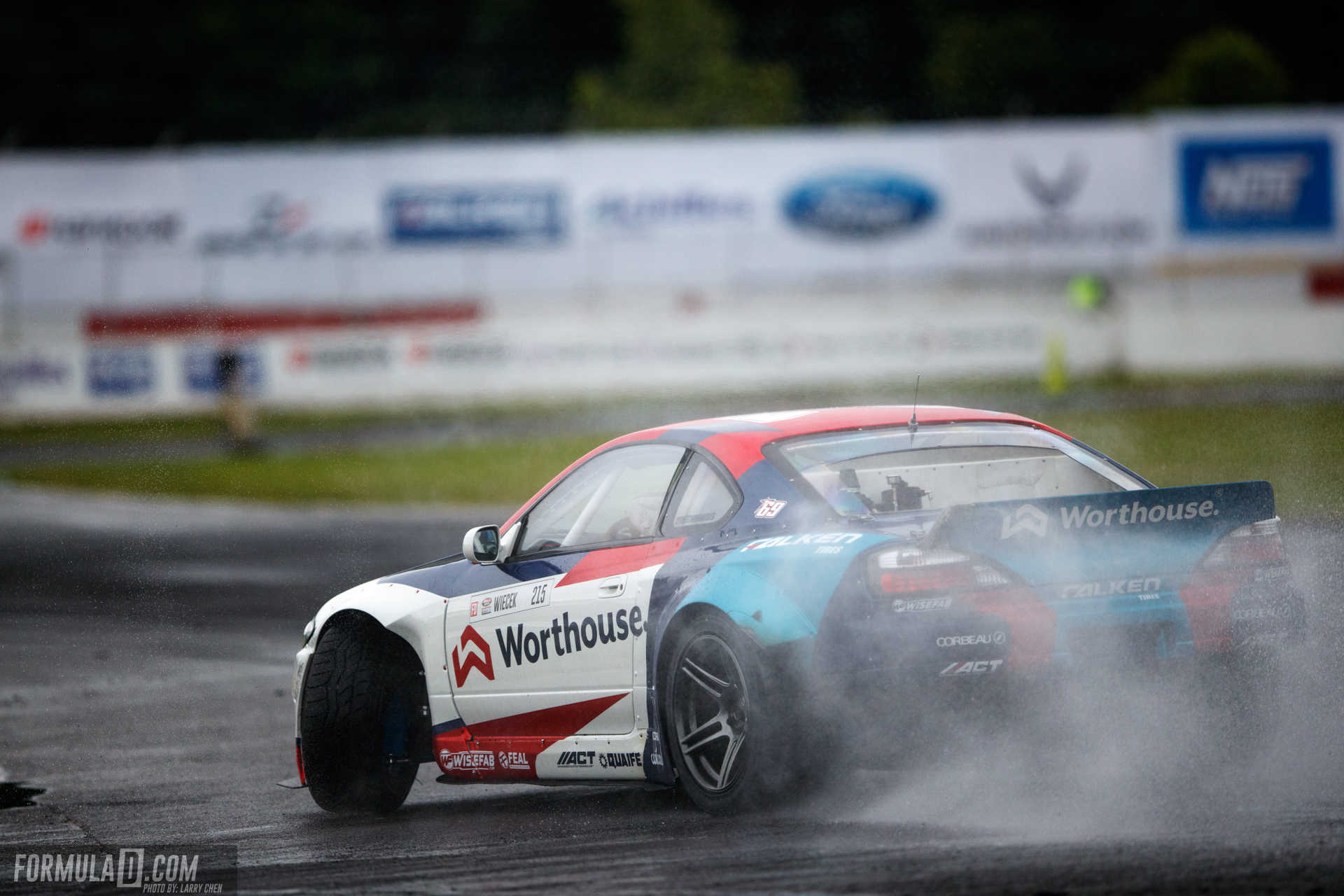 Top 32:

Top 32 saw a battle usually consigned to top 8….Forsberg vs Yoshihara. Dai took out the 3 time FD champion with such smoothness it looked like practice, both cars sounding nasty with their external waste gates popping and snarling. Odi vs Nishida was quite interesting as Robbie's GTR made contact with Odi's rear and speared offtrack at the final clip, where Robbie was deemed at fault but after further investigation showing Odi slowed in a non-deceleration zone, the verdict was flipped and Odi was out. Essa vs Hamilton clearly woke everyone as Essa flicked it hard against the wall on his lead run, using his back bumper to convince the wall to move back a bit. The wall was not having it, taking the rear tyre clean off the rim, however Essa had already welded the gas pedal to the floor and continued to blaze til the end. The crowd went wild. Victim #2. Castro vs Vaughn…gt86 vs mustang…David vs Goliath….the size comparison is apt between these 2, but Castro was the aggressor like a very large tooth chihuahua, lightly hip checking Vaughn on initiation as if to say "c'mon lad, more angle now". But Vaughn remained unfazed, bouncing around in his now signature 3 wheel motion until Castro got a little too aggressive, hitting tyre on tyre, the cars leapt together like super magnets, spinning Vaughn out and giving him the win. Castro the savage's follow game is getting pretty darn strong.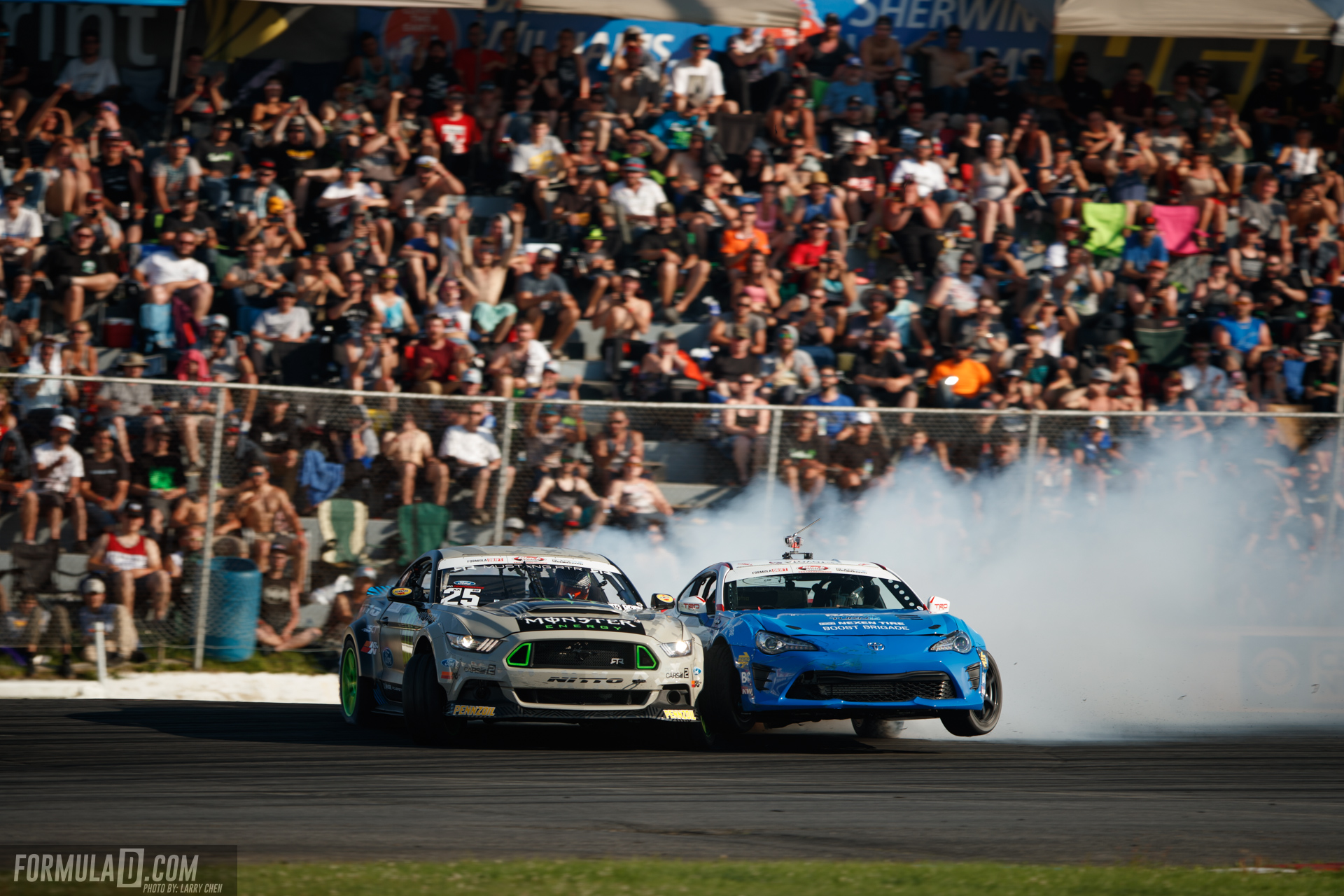 Top 16:

Top 16 saw the other 3 wheeling mustang of Chelsea Denofa vs Marc Landreville. Remember some drivers throwing caution out the window? Yup, you guessed it….Victim #3….Landerville meanwhile came out unscathed, while Chelsea actually had only 3 wheels on the car, the other wheel complete with coilover laid dismembered. Next Matt Field battled a hard charging Dean Kearney. The big oracle viper shadowing the falken s14 on the bank, however on the transition Dean transitioned early, which allowed him to accelerate into the space where Matt's rear had to go. The subsequent collision stopped Matt's car from transitioning back and he hit the outer wall with the front of his car hard. Both cars sat on track with heavy front damage. Throwing salt on the wound, Matt's car slipped off the tow truck's hook and fell off the flatbed, breaking the driveshaft in the process. 2 more victims to the pot. Badass of the day and never give up award goes to Matt Field and his team though, as they ripped everything unnecessary and some actually necessary off, ratchet strapped the strut towers for structural support and even ran the car naturally aspirated as the intercooler and all the piping was damaged. With 1 headlight between the 2 "drift missiles" they still battled on, with Field moving into top 8. Then there was Tuerck vs Gushi. Then there was no Tuerck nor Gushi. Victims #5 and #6. Tuerck initiated then understeered into the wall hard; Gushi, set on kill, was too close and got sucked into Tuerck's crash, hitting both Tuerck and the wall as well. It was a gt86 heart breaker. Both were out.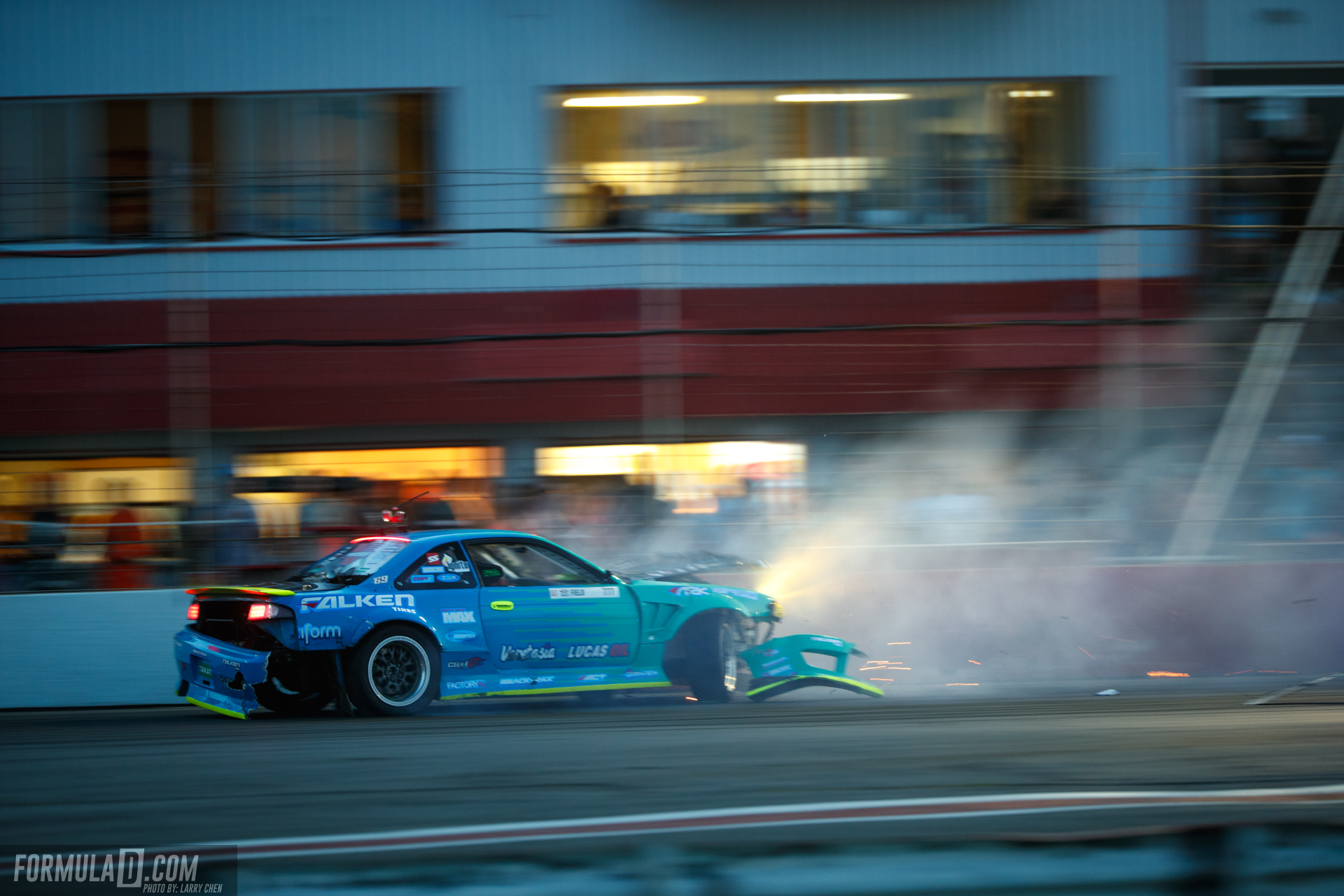 Great 8:

Aasbo got by Landreville but perhaps barely as Landreville ran like a train, dumping hurricane thick clouds all over the track, but Aasbo's precision in both lead and follow was crazy. Bluss faced the now super-leggera version of Field's s14. Down on power but no heart, Matt did all he can to stay with the Latvian rocket ship, which was noticeably moving around a lot with a good bit of steering correction, but Bluss was not taking any chances and showed dominance. Applauds Matt Field. Vaughn and his low rider had a Bye-run (there Bye-run is again, he's getting pretty good).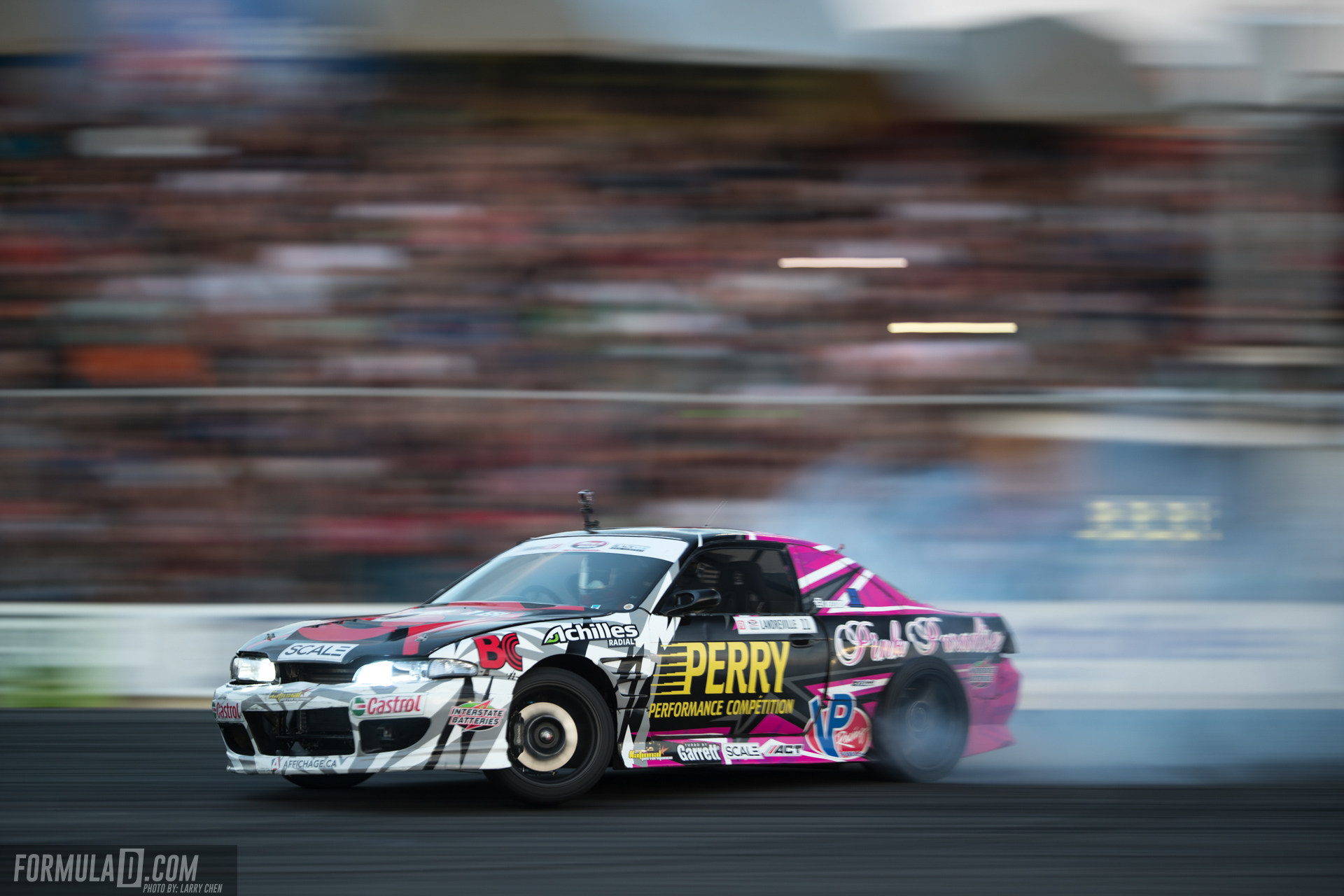 Blackvue Top 4:
It was in top 4 that perhaps the most anticipated battle of the 2017 season came to fruition. Aasbo vs Deane. The hammer vs The machine. Millimeter accuracy vs millimeter perfectionist. And what a tandem it was. The brake indicators atop the cars had their own rhythm, showing left foot braking, correcting; headlights blazing through the copious usage of rubber. James lead run was top tier qualifying standard, Aasbo made an error striking too early in the transition, but realizing the situation, corrected to suit and jumped back on Deane's door. If Deane's lead was a #1 qualifier, Aasbo matched that score exactly. Deane however jumped into that 1st turn as though Fredric's passenger. He stayed in the pocket, transitioned perfectly but perhaps entered the next outer too quickly overshooting his line and losing ground to his quarry. The battle was done, but the war far from it. Good show!! The other pairing, Bluss vs Vaughn, but Bye-run was back (curses!!!) due to Vaughn having oil pressure issues and deciding to take the executive decision to save the engine for another day. DJ Khaled voice "Another 1!"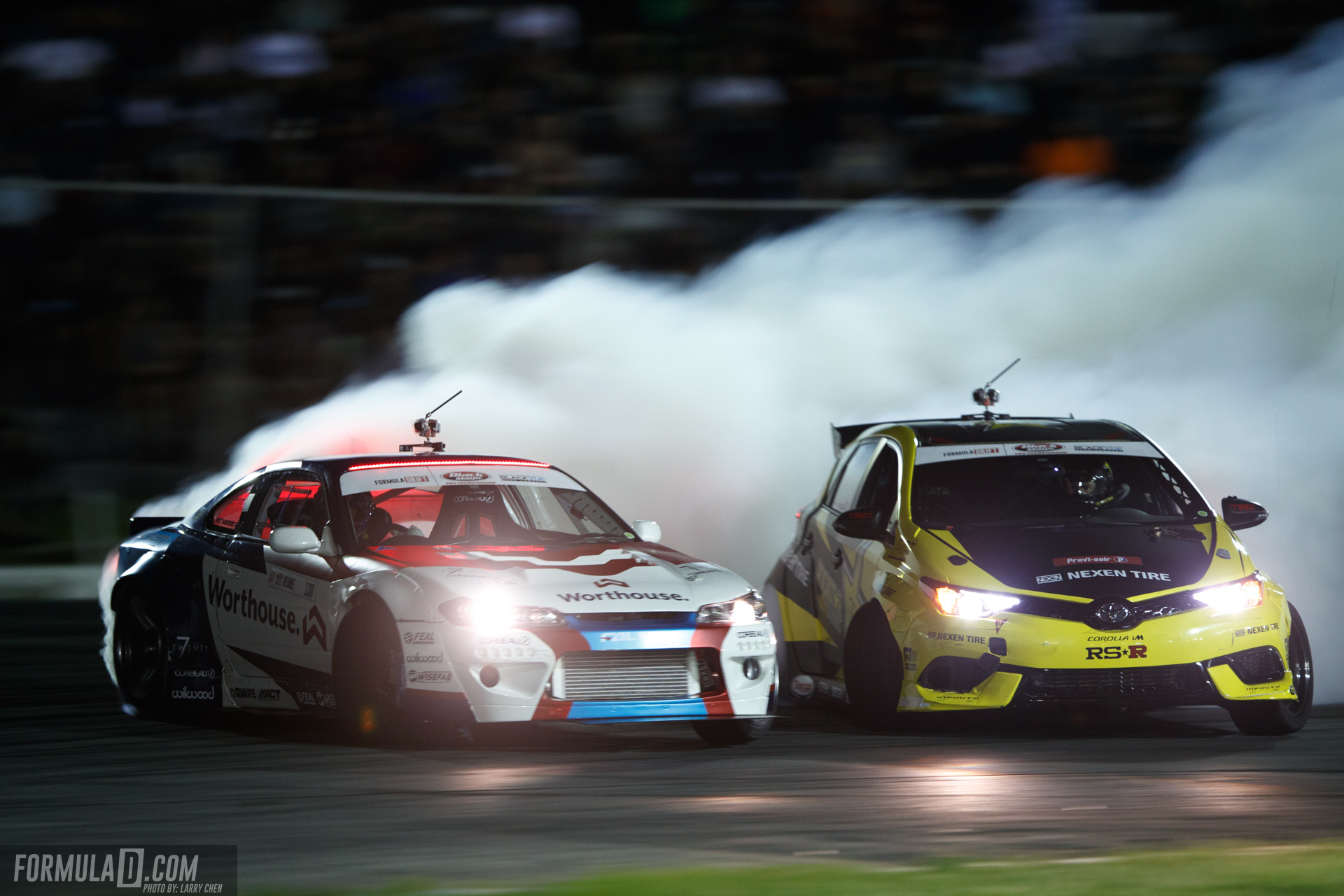 Finals:

Aasbo vs Bluss…was this retribution from Orlando 2016? Bluss was on point but Aasbo was on fire. Bluss led 1st, sticking his BMW to the walls without fear as if to say "…if it dies, it dies." Nailing all the clipping points and trying to shake the relentless Norwegian to no avail, but on the last corner the BMW died, leaving Aasbo to lean on him in an evasive maneuver. Aasbo led the final run and initiated inches off the wall. Bluss barreled in rubbing the not-new-anymore Corolla IM throughout the entire turn. Aasbo didn't back down, he took the blows and carried on unfazed. Bluss was on a mission, he needed to stick it in extraordinary fashion. They blazed past the transition clip, Aasbo on point but Bluss goes a little long and plows into the Rockstar Corolla, punting to off the track…..the final victims…the war is over.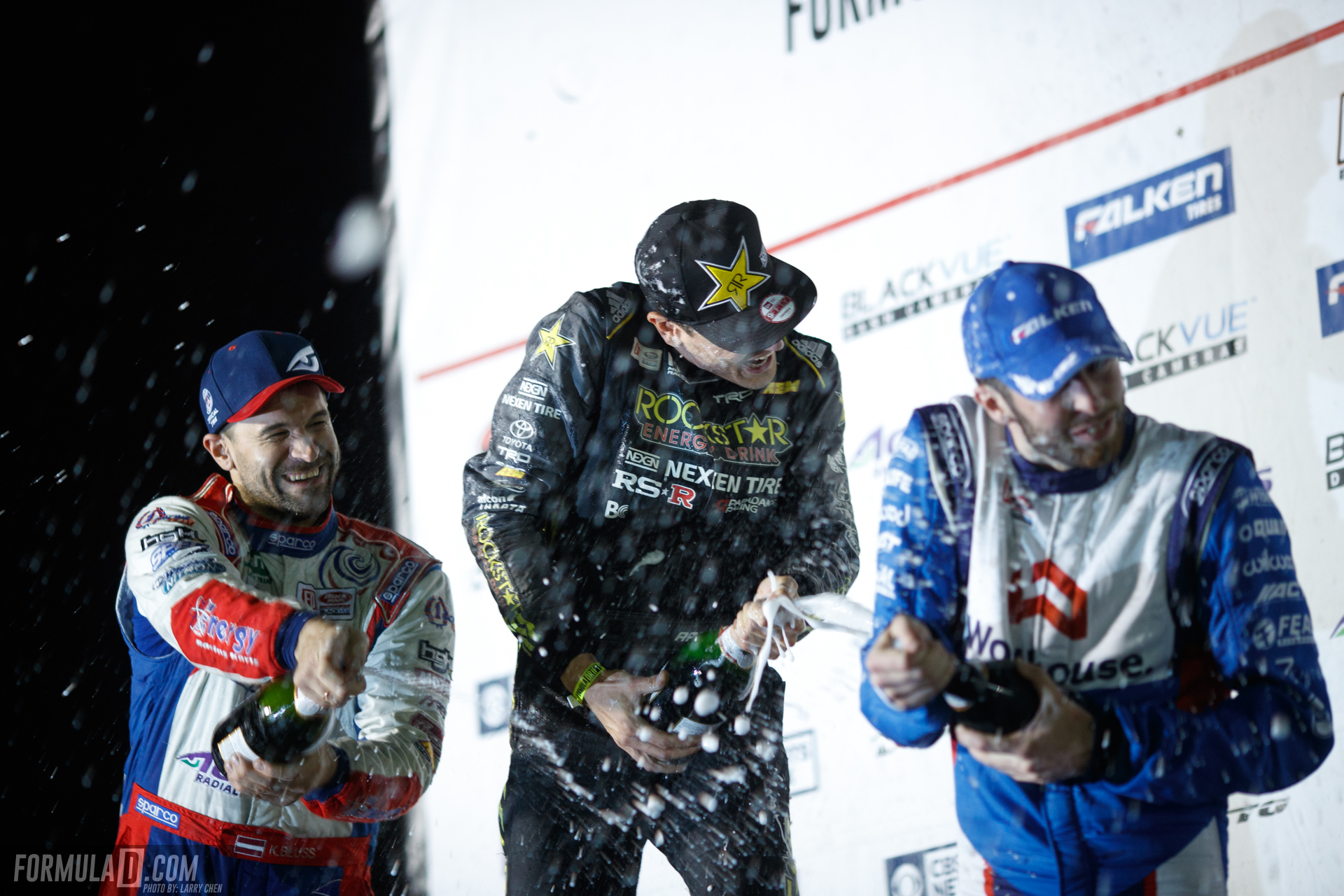 Notables: For every damaged vehicle hustling repairs to return to battle, there were countless other helpers from other teams and even drivers themselves affecting repairs. There were no longer teams but a collective aid for any car in need. Bravo FD for such an unbelievable sight.
Photography credit: Larry Chen for FormulaD.com